DTX Media –> Photography –> DFW Interview Videography
Dallas Video Production – Interviews
DTX Media is a small, yet full-service video production company in Dallas / Fort Worth, Texas that specializes in interview videography. Interviews are a critical and important part of many productions, and we do them right! We focus not only on great lighting and superior audio, but also on creating a comfortable relaxed environment for the interviewee.
We offer all kinds of  interviews ranging from a sit-down conversation, to a mobile journalist with a wireless microphone asking questions, to an instructional or how-to video, to even a confessional-type video booth you may see at a Dallas corporate event. Interviews can stand alone or they can be mixed with b-roll video footage, or even accompanies with photography such as portraits.  Above is an example of two interviews at the Dallas, Texas Cambridge offices explaining their company vision mixed with office and hospital b-roll, staged shots and even a few stock clips. You can see the artistic use of track focusing and a sliding camera in this video.
Corporate Portraits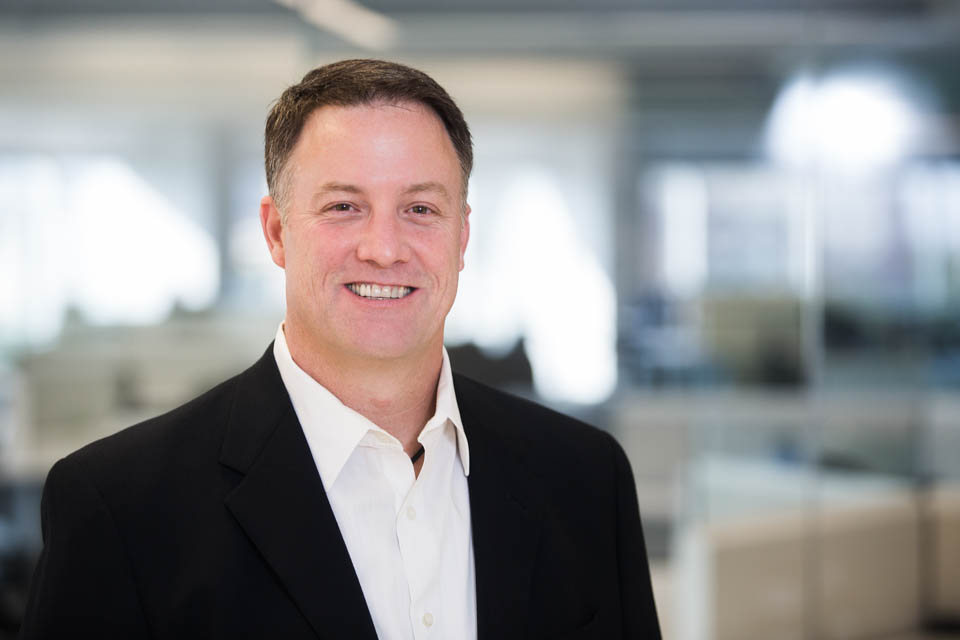 Often interviews will be accompanied with portraiture. DTX Media is a full service photography and video production company. We do both! Which means that you don't need to hire a separate company if you want to add-on photography to the video shoot.  We can even pull still frames from video if absolutely needed. See more on our head shots and commercial portraits page.
B-Roll Videography in Dallas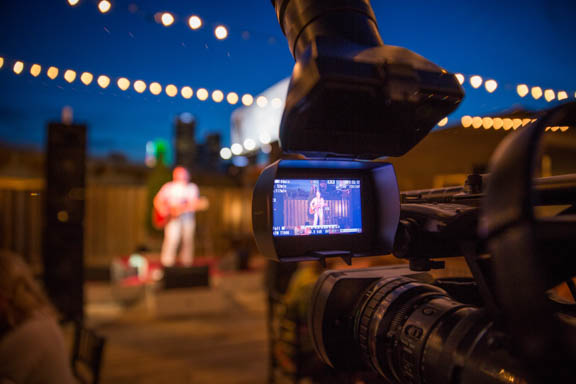 B-roll refers to "extra" video taken other than the direct subject. B-roll video is frequently used with interviews to add to the production value by cutting away from the person talking. Not only can this make an interview more intriguing or tell a visual story, it allows for imperfections such as stuttered words to be removed seamlessly, especially with the addition of a second camera.
Dallas Interview Videography Set-up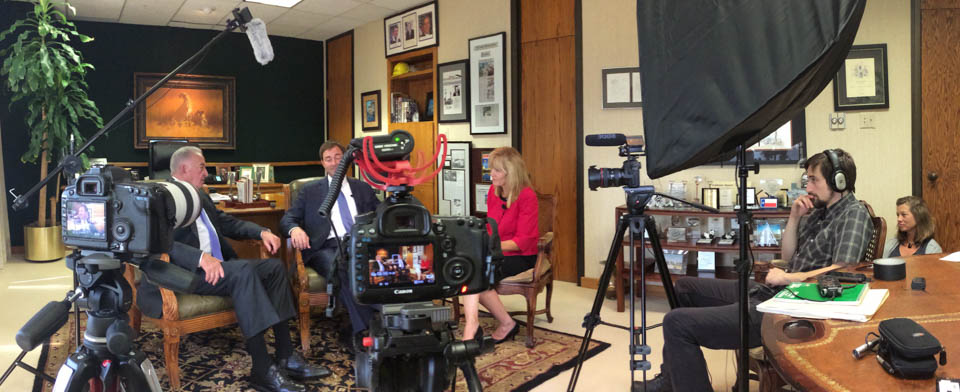 The above behind the scenes image was taken by a video camera operator at the Panda Energy office in Dallas, Texas as part of the Living Energy Documentary. This particular shoot has three dSLR video cameras. One wide showing both subjects Todd and Bob Carter and our journalist interviewer Diana, while the other two show close up views of Bob and Todd. There are two of our wireless controlled LED panel video lights diffused by soft boxes (one out of frame), two shotgun microphones, one boom mic and a lavaliere / lav mic on each of the interviewees which we being monitored by our camera operator.
Green Screen / Video Station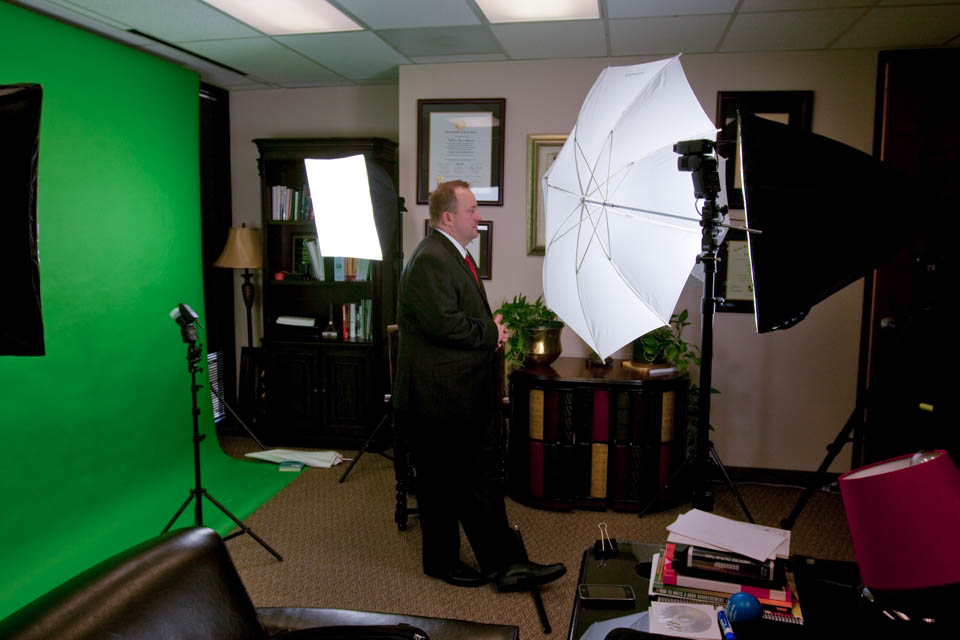 DTX media is a video production company in Dallas / Fort Worth, Texas by Jonny Carroll and crew that offers interviews and other videography and photography using a green screen background. A green screen allows us to place any background we choose behind the subject.  See more at our Green Screen Video page, or even learn video booth / video station service.
Teleprompter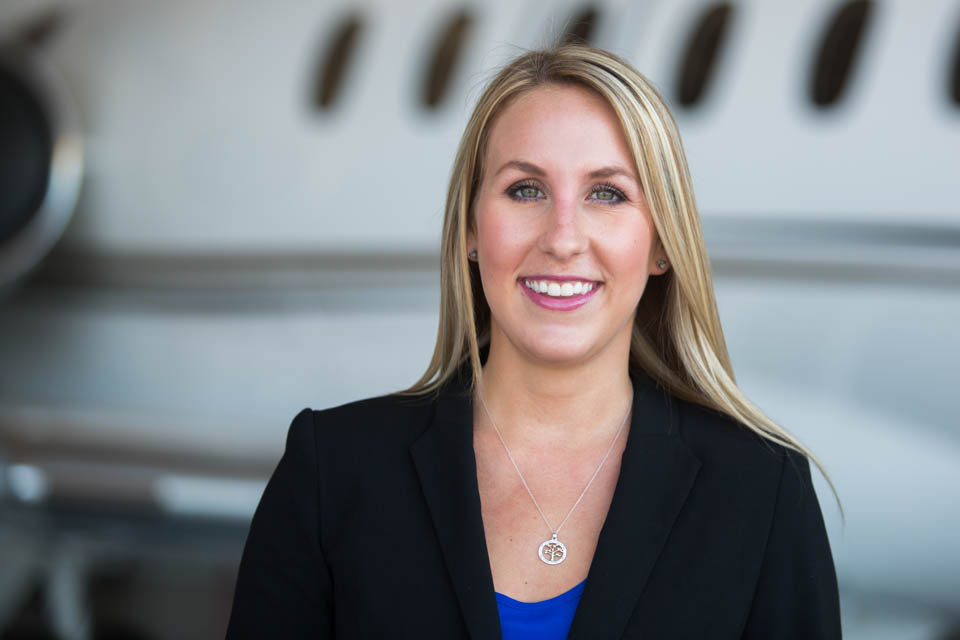 Many times words need to be very precise in a video or interview. This can be achieved by memorization, which is difficult, or by using an easy to use teleprompter. Our prompter displays scrolling words at any speed to text size from a tablet and with our professional beam spitter glass, the teleprompter can be placed directly in front of the camera lens without impact the picture. It's pretty incredible. So feel free to stick to the interview script in an easy convenient way!