Dallas Aerial Video Production
Above is our DTX Media (Dallas Texas) demo reel from recent years. This is just a highlight collection of the video production work we've done. You'll see a large collection of aerial video along with some groud cinematography work. We are not pilots with cameras, we're professional cinematographers and photographers with advanced stabilization techniques and tons of experience. We are based in Dallas, TX but serve all of Texas and surrounding states. This includes Houston, Austin, San Antonio, Oklahoma City, Wichita Falls, Shreveport Louisiana, and more. Our drone aerial photography and video (see details below) also allows us to shoot in remote Texas locations.
Dallas Texas Aerial Video
Our video is High Definition with the highest quality production equipment and state of the art stabilization techniques. Our experience is unmatched, including over 100 hours of electronic news gathering for CBS, Fox News, and NBC by Jonny Carroll in the cineflex the platform shown to the right. The Cineflex options, (and sometimes the side-mount option) offers a director's seat from which our clients can view the shoot from their own personal monitor in real-time. Read about the ENG Cineflex specifications  here.
On the full scale aerial video, hourly rates are billed in 1/10th increments with a 1 hour minimum. The hours are billed according to the Hobbs meter on the helicopter, therefore power-up and ferry time to and from location from the departure location is part of the flight time. The cineflex system flys only out of Dallas, but we have side-mounted aerial video options all over Texas.
We also offer a Cineflex option on a turbine Bell 206B helicopter here in Dallas. We can accommodate a Cineflex V14, Elite (ARRI Alexa) or Ultra which can fly a Red Dragon camera and shoot in 4k. Ask about this option as it is very custom.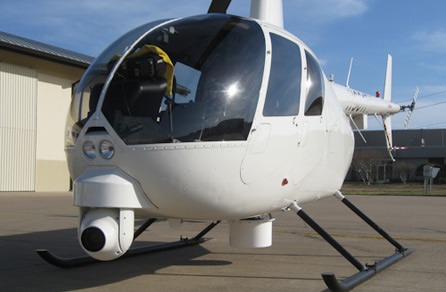 Drone Aerials
Remote control aerial video and photography platforms are commonly referred to as drones, quadcopters, hexacopters, multirotors, RC helicopter and etc. This is new technology, and with a lot of practice, we've become very skilled at the art of both piloting and capturing good images. We use precision machines, coordinate and comply with Local, Texas and FAA laws and tower controllers as well as keep our RC helicopters and drones in top condition. Our aerial video platform uses state of the art stabilization gyros to give you a smooth beautiful videography.
RC / Drone video opens up possibilities in Texas that didn't exist before. RC video allows us to service cities without servicing airports, other remote locations and very low altitudes below buildings. While it can be a great way to capture aerials, drone aerial video is actually many times not the best option or the cheapest. Many times when still inside the major cities and especially inside certain airspaces or at high altitudes, a full scale helicopter is a better and cheaper platform. Let us know exactly what you need, and we'll help you choose the best aerial video platform for you!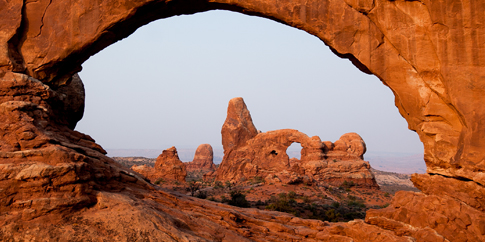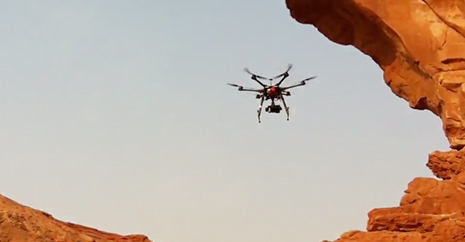 The photo above shows our drone flying above the arch to show a unique visual perspective that most could never see otherwise and in a very remote location. Jonny Carroll (of DTX Media) would proceed to legally fly the drone through the opening in early 2012, becoming the first person on record to ever fly a UAV though a natural arch. Drones have since been banned from National Parks. You can see a guideline here of the basic no-fly zones, though there are exceptions. We can use FAA compliant 333 exemption pilots on request.
Platforms
ENG Cineflex Option
Full scale Helicopter.
R-44 ENG Nose Mounted Camera
5-axis gyro stabilized aerial video
Insanely stable.
See Specs and Details.
Director may fly along and has his own monitor
Serves class bravo airspace.
Not effected by wind or limited in altitude.
Our ship only departs out of Dallas only and is limited only to 1080i, 60fps.
High-End Drone Option
Camera and drone can be controlled independently. 
Hexarotor. Comparable to the cineflex. Very stable.
4k, 1080, 60p, 30p, 25p, or 24p,
Lumix GH3, GH4, GoPro 4K
Relative Limitations:
Flight time of 10 minutes,
400 ft above ground altitude,
20 mph wind max
Must have visual of drone from ground
No class bravo airspace, except for extremely low altitudes

Services anywhere in Texas and surrounding states, flys on site.
Side Mounted Option
Prices vary depending on location, stabilizer used and flight options. This option is very customizable and versatile.
Full scale helicopter
Tyler Mini Gyro Mount
or KS8 Gyro stabilization
or brushless gimbal
Canon 5D mkIII or custom
Serves class bravo airspace and is much less effected by wind or altitude than the RC option.
Director may fly along (changes price and helicopter used)
Departs from many locations in and surrounding Texas.
Low-End RC Option
GoPro or equivalent aerial video
1080p @ 30fps
720p @ 60fps
Flown with a small quadcopter, 3 axis gyro stabilized. Great for quick cuts and low-end productions.
The camera can tilt forward all the way to strait down. The camera gimbal and remote control helicopter cannot be independently controlled.
Limitations:
Flight time 10 minutes,
200 ft above ground altitude,
10 mph wind max
Must have drone in sight from ground
No class bravo airspace
Services anywhere in Texas and surrounding states, flys on site.
These prices are estimates. We offer both editing services, and ground based video in addition to aerial video capture to create a full video production. Contact us for an exact quote and to learn more.