Dallas Aerial Video Production | DTX Media
Above is our DTX Media (Dallas Texas) highlight reel from recent years with a heavy emphasis on aerial video. We are not pilots with cameras or drone hobbyists, we're professional aerial cinematographers and videographers with an eye for film and video production. We have advanced stabilization techniques and tons of experience. DTX Media is based in Dallas, TX but we serve all of Texas and surrounding states. This includes Houston, Austin, San Antonio, Oklahoma City, Wichita Falls, Shreveport, Louisiana, and more. Our Part 107 and 333 exemption drone aerial video and photography services allow us to shoot in remote Texas locations.

Aerial Video Platforms – Drones and Helicopters
Custom Cineflex UHD / 4K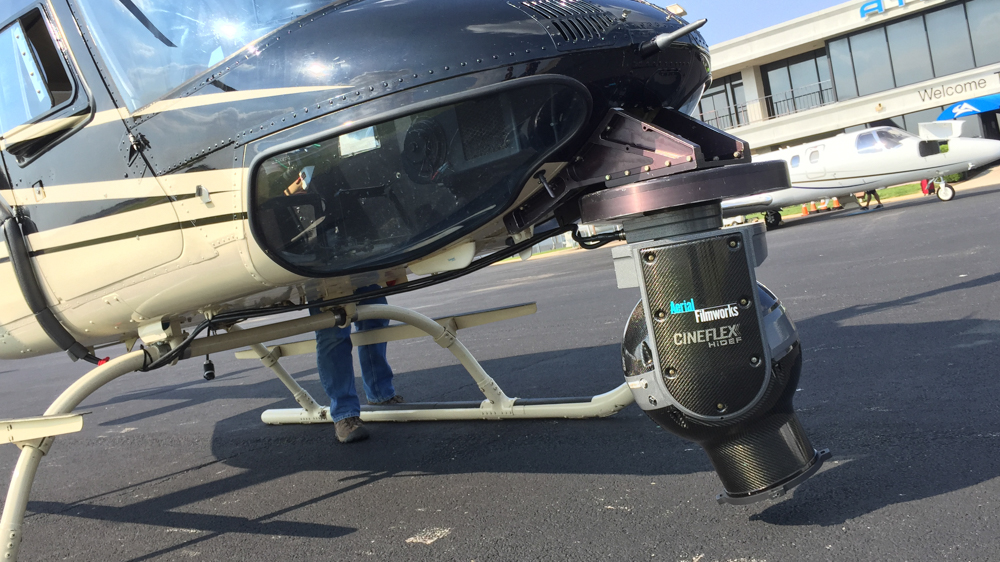 There is no match for the Cineflex system. The Cineflex is a 5 axis gyro stabilized nose mount system typically on a turbine helicopter that is silky smooth. The camera can be controlled from inside the helicopter including the ability to zoom in and out and focus remotely. Jonny Carroll, our typical DTX Media Cineflex operator, has over 100 hours in experience using the Cineflex flying for films, corporate jobs, and the news. We can accommodate an Elite (ARRI Alexa) or Ultra which can fly a Red Dragon camera and shoot in 4k, or shoot 1080 using the Cineflex V14. Prices vary.  We fly in a Bell 206B here in Dallas, but can serve all of Texas. A director can fly along in the front seat and call the shots, or DTX Media, given our aerial operations experience can direct. This option is very customizable.
Custom Cineflex Rates:
$12000 up-front day rate +
$3000 for each flight hour, including ferry time
$5000 for contingency days. (rain out, reschedule, etc)
*prices may vary slightly depending on needs. Ask for a custom quote
Drone Aerial Video – High End – 333 Exempt / Part 107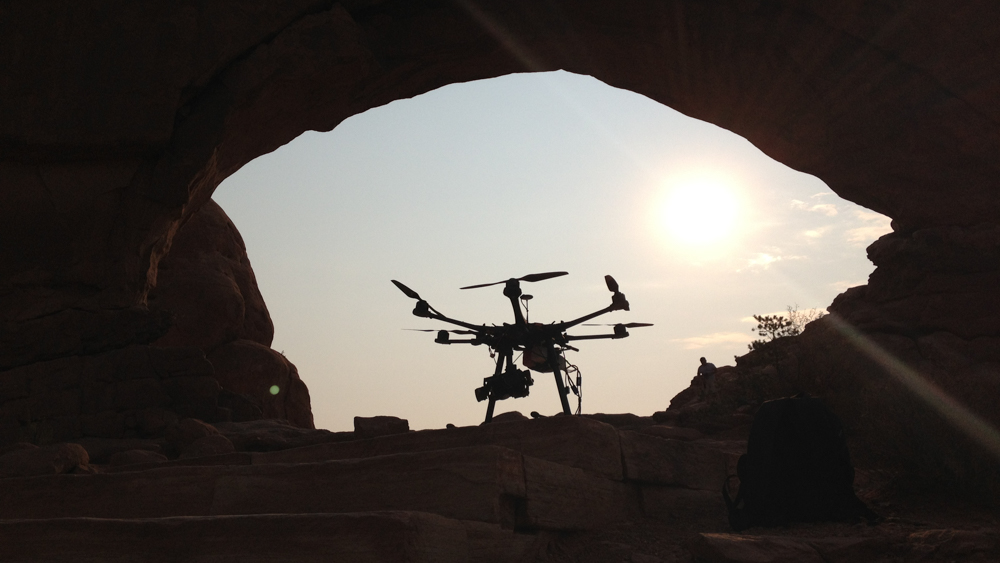 Drone aerial video offers a unique perspective and affordability for film and productions. Drones can fly extremely low compared to full scale helicopters and can capture very dramatic video as a result. Our aerial video platform uses state of the art stabilization gyros to give you smooth and beautiful videography. Clients can monitor the drone and see the live video feed from the ground. DTX Media uses precision machines and we keep our aerial video drones in top condition. Drone aerial video in Dallas is particularly tricky as Dallas lies in a Bravo airspace, which is the most restricted you can get, besides the White House! (see the no fly map below). You want an expert, and that's where we come in! Our pilots are real-licensed aircraft pilots with the FAA 333 exemption and or Part 107 with remote pilot airman certificate with a small UAS rating, making them completely legal and compliant. We're not just pilots though, we're drone videography experts! We have a variety of options, everything from a RED camera, to the typical micro 4/3s to the built in DJI x5 and x3 cameras that can shoot in 4K resolution. Let us know what you need, we hope to be your Dallas drone aerial video service.
Dallas Drone Aerial Video Rates:
$1900 up to 3 hours on site +
$700 per each additional hour
OR
$3500 for a full day (up to 10 hours on site)
*Drones are limited to 300ft elevation, 20 minute flights, weather conditions, and airspaces
Side Mount Aerial Video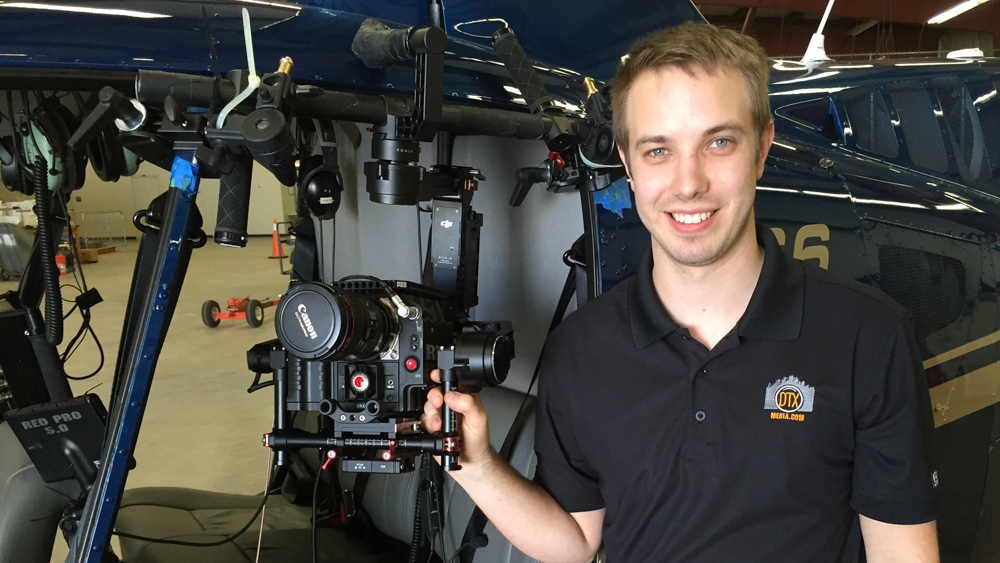 The side-mount option is our most customizable option for helicopter aerial video. With new gyro technology, the side mount aerial video can many times be the most affordable option, and still looks fantastic. Above you'll see Jonny Carroll of DTX Media next to a very customized option using a RED camera on a Ronin stabilizer. We can also simply shoot with the 3-axis gyro stabilized DJI x3 or x5 cameras at 4K resolution while still accommodating frame rates of 24p or 30p if desired.  The full scale helicopter allows us to work in restricted areas and cover large areas, such as spans of highway, while still capturing beautifully smooth video. We can accommodate a passenger / client / director with their own monitor or just fly ourselves and save you costs.
Typical Side Mount Rates
$600-$1500 Day rate +
$600-$1200 per flight hour
*prices vary depending on needs. Mostly: location of departure, camera platform needed, passenger or not. Ask for a custom quote. Most Dallas locations can be shot at the minimum $1200 price!
HD Cineflex | Dallas Aerial Video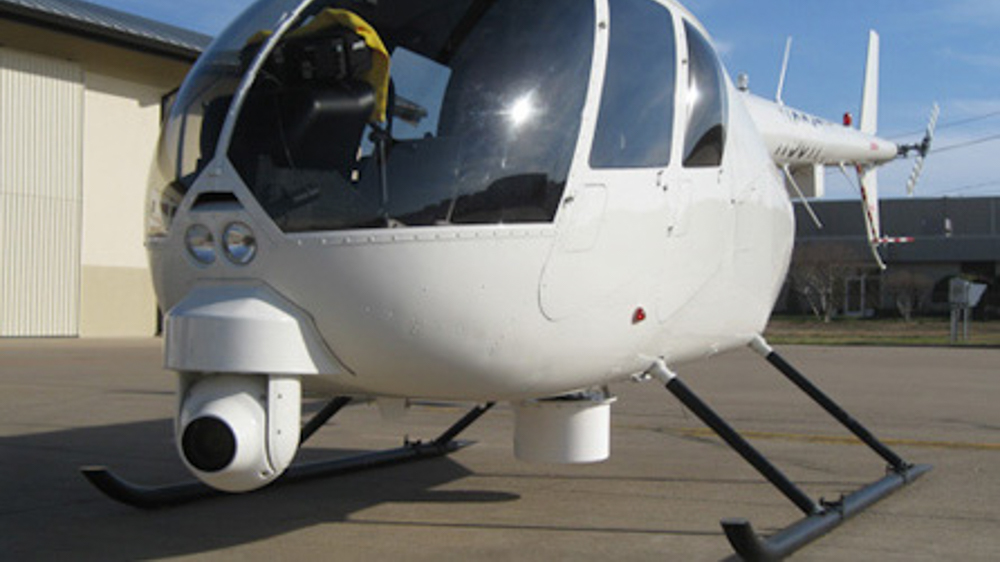 We use a specialized cineflex system that flys out of Dallas, TX design for Electronic News Gathering (ENG) and is great for aerial video. This system is limited to 1080 HD video, (no 4k yet) and it's stabilization is incredible. This ship, a Robinson R44 is perfect for most aerial video applications in Dallas, TX that would not specifically require a drone. The price between this ship and a drone are comparable when you consider how much area a full scale helicopter can cover in an hour vs a drone.  A director or the client who is under 250lbs can fly along!  Our videographer and pilots have over 100 hours flying in this ship for the news and other videography. You can find out all the specs for the system here.
Standard ENG Helicopter Rates
$1200 Day Rate +
$2500/ flight hour, minimum 1 hour.
*This flies out of Dallas, Texas only, but we do have access to a comparable ship in Houston.
Drone No Fly Zones / Airspace Restrictions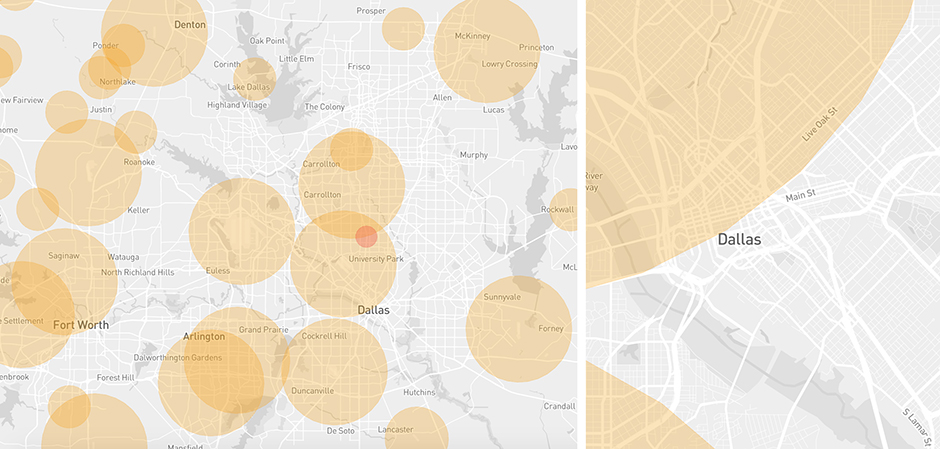 With the full scale helicopters, we can get clearance into any of the restricted orange DFW airspaces with a 36 hour notice. The one exception being the red circle (George Bush's house). Drones however can not operate in the orange areas without very special waivers and exemptions. For this reason, we recommend any aerial video needs inside the orange areas be filmed with a full scale helicopter (our nose mount or side mount options) unless a drone is absolutely necessary for the jobs. Any person or company flying a drone that cannot show a wavier or exemption to operate within these orange areas is likely breaking federal law and is a criminal with potential penalty of imprisonment. (i.e. Not someone you want to do business with).  You can see a detailed and interactive no-fly map at Airmap.com
If you're looking for still photos, please visit our Aerial Photography Page
While we specialize in aerial videography, we are also a full service video production company and can usually accommodate any needs you have on the ground. Our services range from interviews to time-lapses, to event coverage and even documentaries.